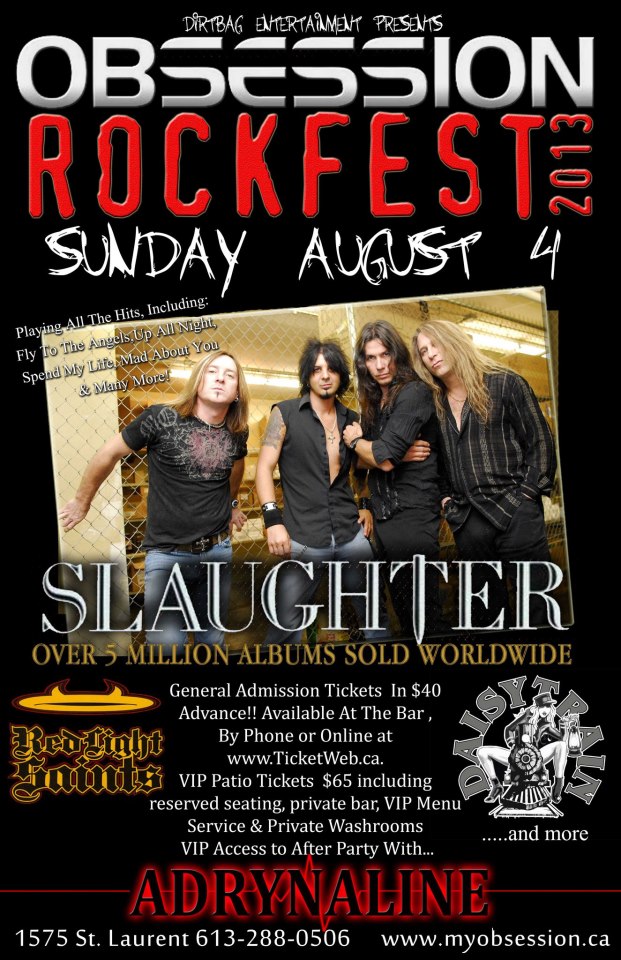 Red Light Saints @ Obsession Rockfest
It's Confimed! Red Light Saints will be playing on August 4th at Obsession RockFest 2013 - Opening for International Recording Artists SLAUGHTER!!! Stay tuned for details about this show and more RLS news - COMING SOON!
Friendship Song by Red Light Saints - Cuba Tour 2011
Another Shot at some Big Money
Another year, another LIVE 88.5 Big Money Shot...another chance for $$$!

On May 20th 2011, Red Light Saints are back at the LIVE Lounge (128 York St.) to rock-out for the possibility of thousands of dollars in band support given out by LIVE 88.5 - Ottawa's Alternative Rock Station. It's been a busy and highly successful year for RLS, and we hope to keep that trend going by blowing the roof off this "band war".
This is the first of several rounds, and the performances will be released and judged on video, so this is a call to all Red Light Saints fans to come out an support the band, crowd the stage, sing along, wear your RLS gear...and generally go nuts, as only RLS fans can do.
Red Light Saints hit the stage after 11:00 p.m. Tickets are $8 at the door

RLS IN The Headlines...

Red Light Saints were featured in The Ottawa Citizen on April 7th 2011. Read the full story here:
Top 10 Most Memorable Moments from Red Light Saints Cuba Tour 2011
Visit the RLS Blog, "The District", for a brief overview of the most exciting experiences, unforgettable shows, unique moments and more, from the RLS Cuba Tour:
www.redlightsaints.com/thedistrict/?p=231

The Boys are Back - Red Light Saints Cuba Tour a Wild Success!!!
From March 7th through 14, RLS had an incredible tour in Cuba. The band covered a lot of ground. Some of the highlights were: Headlining The Cuerda Viva Festival and appearing on the T.V program, playing for the kids at The Oncolgy Hospital, workshops/jams with many talented musicians, daily radio interviews and the wonderful people and
music lovers of Cuba.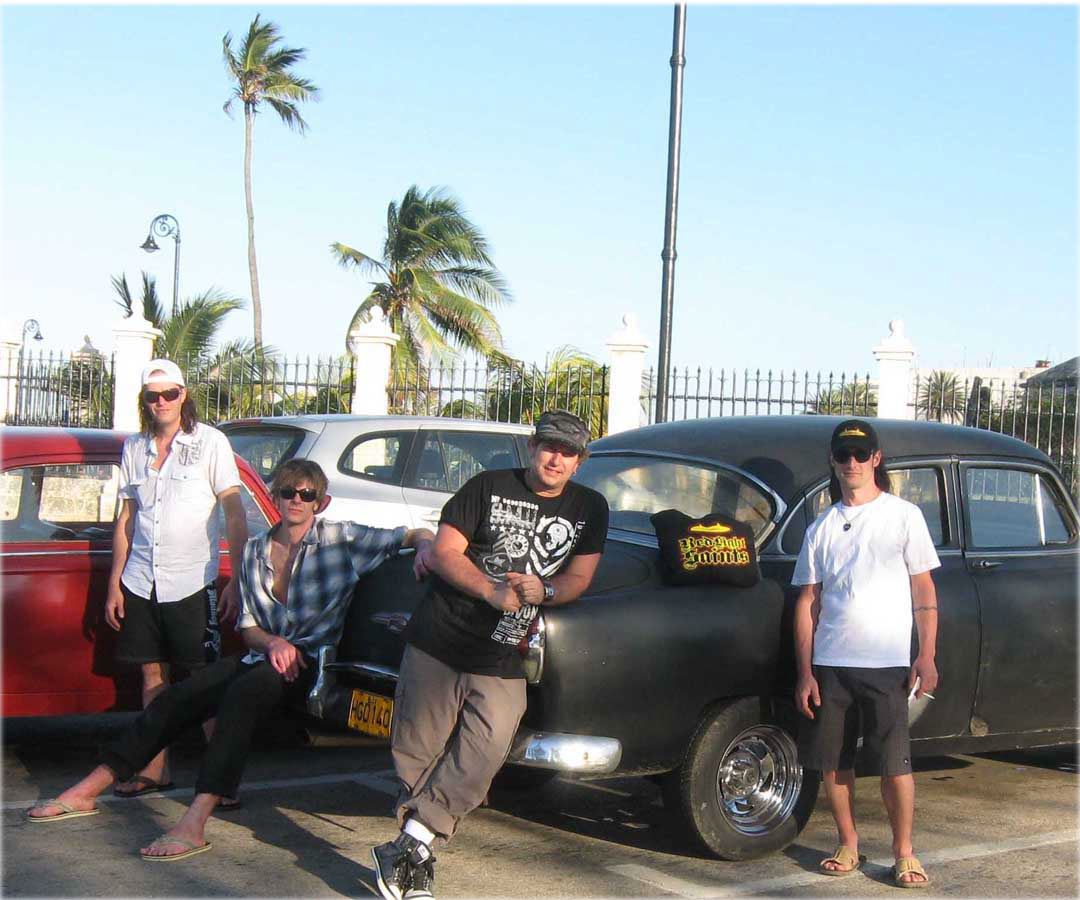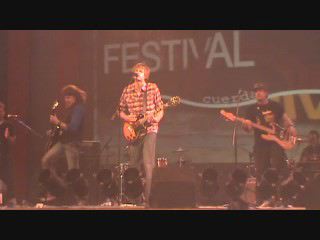 Visit Our Blog "The District" and take a photo Tour with RLS:
www.redlightsaints.com/thedistric
One Week to Havana - Spotlight on RLS
Red Light Saints are leaving for Havana Cuba on March 7th, to begin their "Rock n' Roll Springbreak" Tour.
This is the first time a Canadian Rock Band has been invited on an Official Tour by the Cuban Ministry of Arts and Culture.
Here is a look at what the media has to say regarding the Tour:
(Left) -RLS bassplayer, Humbe on "Radio Havana"
Humbe - Radio Havana interview

Red Light Saints on LIVE 88.5 (Ottawa's Alternative Rock) "Friendship Song" with Intro/Outro by Chelsea Miller.
http://redlightsaints-friendship-song-live-88-5.viinyl.com
Cuba-Metal.com announces the arrival of RLS.
Red Light Saints announce Cuba Tour 2011
In March 2011, Red Light Saints are off to beautiful, sunny Cuba for a full week of performances, tv/radio appearances, interviews and more. Including a headlining slot at the Cuerda Viva Festival - One of Cuba's largest music festivals.
Never before has a Canadian Alternative Rock band been invited on an official tour by the Cuban Ministry of Arts and Culture.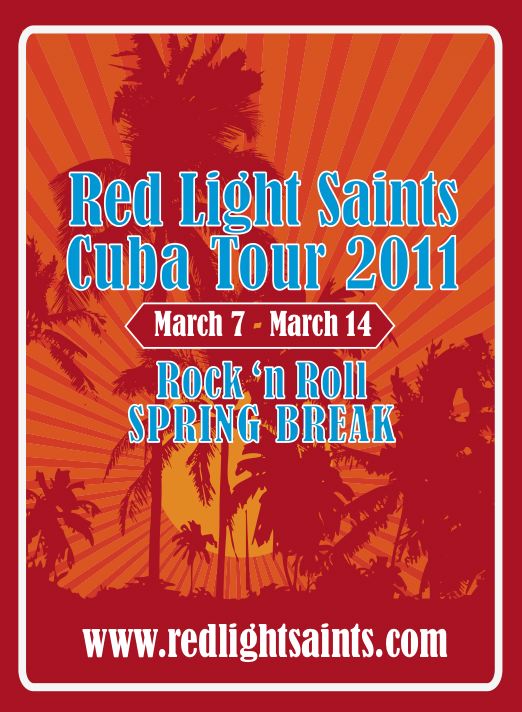 Full tour schedule to be released soon.
For more details, check out the RLS Blog -"The District": http://redlightsaints.com/thedistrict
Acoustix & Covers & Jams...Oh my!
So far, November and December have been a real "Roots" experience for RLS.
Winter has held a string of Acoustic performances, and some extremely long and experimental sets. Playing full nights with strange covers, improvisational jams and unplugged versions of Red Light Saints originals.

There have been some really talented special guests ( the Peat Brothers, Empress Nyringango/Metricks) joining RLS at venues like The Grand, D'Arcy's and the legendary Elmdale Tavern (...classic...awesome...).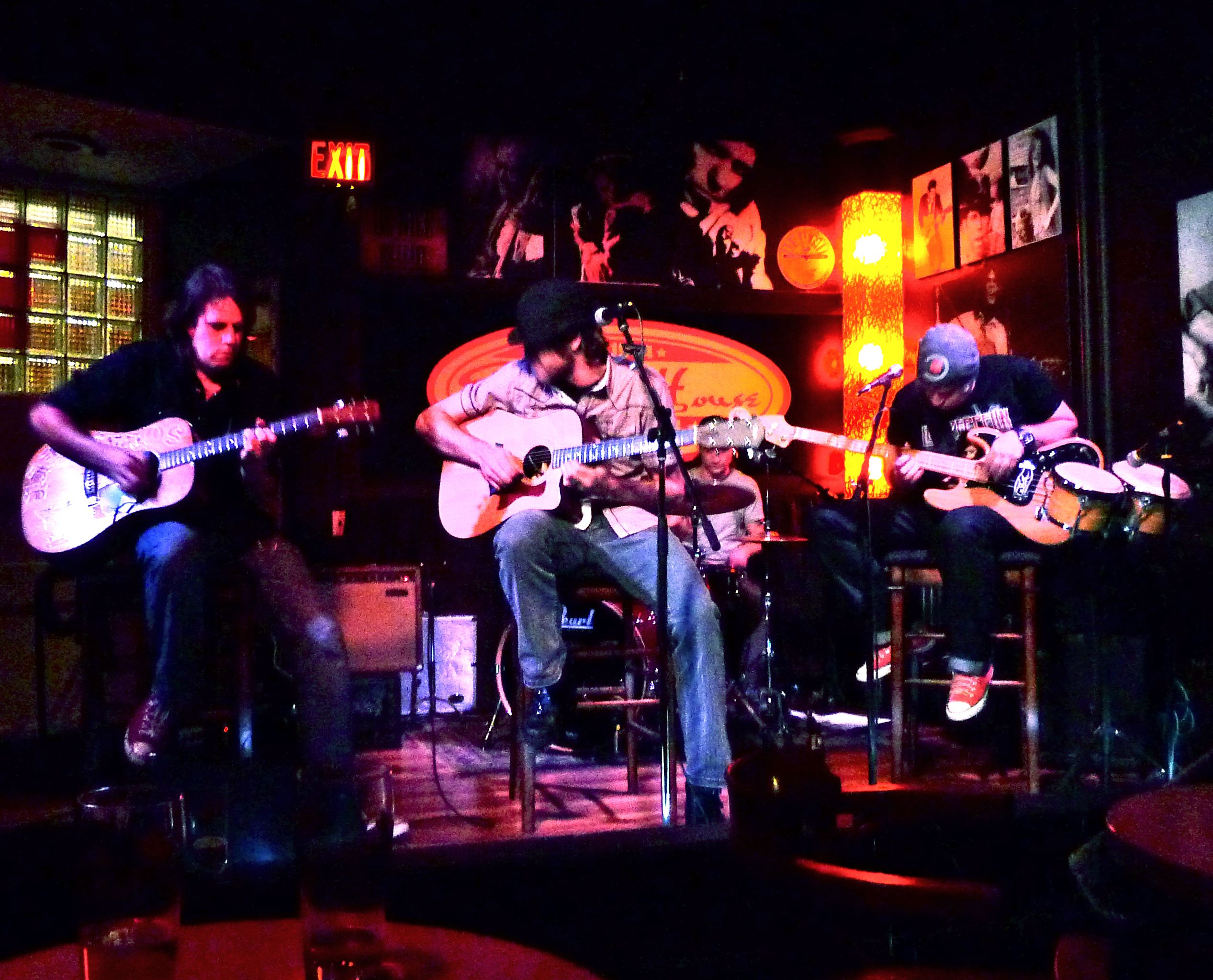 Red Light Saints have more "Unplugged" performances coming soon...Check out the tour page for more details
Halloween in the 'Burbs
Red Light Saints are heading to Darcy McGees in Orleans (260 Centrum), on Saturday October 30th. This is gonna be the official RLS Halloween Rockfest! So dress up funny and run to the 'burbs! The fiendishly, awesome girls of Cr4ve will be headlining the night...Not to be missed! Event is at 9:00 p.m. Prizes, beer, Rock n' Roll, Freaks and processed sugar.
Now that's a party!
Red Light Saints @ LiVE 88.5 Big Money Shot 2010
On Friday October 1st, Red Light Saints will be back in the LiVE 88.5 Big Money Shot for a chance to win up to $200,000! Come out and get LOUD!!!
LiVE Lounge - 128 York St.
We're on @ 9:30 p.m. $8 at the door
Check it out: http://www.live885.com/index.asp?mn=10
We are gathering the troops, so this is a call to all "Saints" fans to come down to the Live Lounge, and show 88.5 and Ottawa, that RLS fans are the wickedest, craziest bunch of Rock n' Roll Misfits in the city...Y' know you are!
Wear your RLS Horned-Halo gear, rush the stage, dance/sing your faces off and don't be afraid to get a little crazy and rowdy!
There are some sweet new T-shirts coming in for the show (as well as our usual swag) and we will also be selling a pre-release of Red Light Saints new E.P. This will be the 1st place to get them anywhere.
Support Local Music!!!
***We will be donating profits from our merch sales throughout our run in the Big Money Shot to Sick Kids Hospital . Let's make it a good one!
RLS in the News
Red Light Saints recently sat down with Jamie Doggart of Nepean This Week to discuss band names, the Big Money Shot and musical first dates.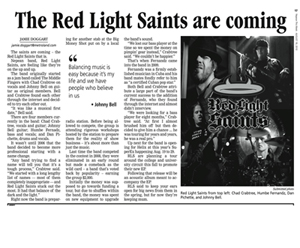 To read the full article, click here
QUOTES

OF THE DAY

:
"Rock 'N Roll is the most brutal, ugly, desperate, vicious form of expression it has been my misfortune to hear" - Frank Sinatra
"It's better to rock and regret than to regret not rocking" - Johnny Bell
Welcome to RedLightSaints.com!

This is the place to come for all things RLS.
We have a lot of things on the go right now, so where to start...Hmmm...

Your reading this, so obviously the new site is up. It's an ongoing piece of work, and we'll be building on it from here, but roam around and check it out...There's lots of great stuff to sink your head into...so go nuts!

After many late nights, frayed fingers and little plastic cups of brandy, the new E.P is almost done. Check out the "featured track" to get a little taste of what we've been working on. We will be changing this song periodically, so stay tuned! We are still in the manufacturing stage. Check back with us in a couple weeks and the album will be titled, accompanied by some sweet artwork and will be ready for purchase.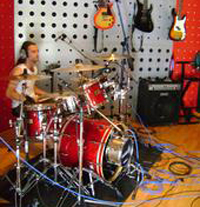 Danny cutting drums for the new RLS album
We've managed to line up some great shows through the summer and into the fall, so come check us out. We're opening for Canadian rock legends HELIX at the Ottawa Super Ex this year AND we're heading down to Peterborough in the fall. Check out the TOUR page for more upcoming shows...

Red Light Saints have been messin' with their already messed up sound, going in some new directions...left turns, special guests, B-sides and (gasp) a cover song, so there will be a few surprises and additions. And of course we'll be "throwing down old school" as well, so you can come prepared to see a rip-roaring, sweat fuelled show with all the great RLS songs that you and your Mom have come to love.

Oh, and we have a big announcement on the way as well...it's kinda a big deal...but we'll sit on that one for now ;) - Don't wanna blow it all in one shot, do we... No one likes that!
So check back frequently...Stuff changes quick 'round here.

ThanX ...Love and Respect to All!
...Sinners & Songwriters,
Red Light Saints