That's Right Hermanos/Hermanas!
Red Light Saints are hitting the road and bringing the show to beautiful tropical Cuba!!! We have a whole week full of performances – festivals, theaters, university shows, as well as tv/radio appearances, interviews and more. (We're booked pretty solid actually … hope we get ample "beachtime"). Never before has a Canadian Alternative Rock band been invited by the Cuban Ministry of Arts and Culture, on an official tour of the country.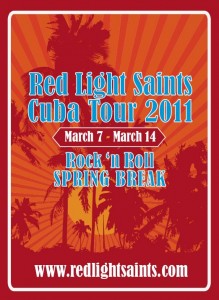 This tour has been in the works for a while. It started as a little idea we had last year and has snowballed into something much larger than originally expected. When Humbe (RLS bassist – who started his musical career in Cuba) joined the band, he would often speak of the "hunger" that young Cuban music lovers have for exciting, new rock bands. It is not a common tour destination for many groups and access to modern mainstream Rock music is still very limited (Rock n' Roll was, after all, prohibited until the 1970′s). So we took the plunge and decided that RLS would do just that … bring Canadian Alternative Rock to an audience that is just ravenous and ready for it. As artists, the prospect is pretty exciting!!!
And let's face it…bustin' out of Canada in mid March ain't too bad either. That's why we are calling it our "Rock n' Roll Spring Break"
The logistics were a little staggering at first, but our involvement with the Cuban Ministry of Arts and Culture, The Institute of Cuban Music, our Tour Manager and several of Humbe's old industry contacts, has opened up some doors for us, that would be unavailable to most bands, and has given us this rare opportunity.
We have some excellent gigs lined up, including a headlining slot at Cuerda Viva, one of Cuba's biggest music festivals. Check back soon, our full schedule will be released shortly.
And the spirit of this Tour is not to just "go play some shows". We will be getting involved in the community as much as possible, because our goal (like the goal of music itself) is one of sharing and exchange. We have much to gain from this experience and from the wonderful people of Cuba, so we plan to give as much of ourselves as we can, as a way of expressing our heartfelt thanks to a community that has opened its arms to us. And hopefully those arms will stay open to embrace future waves of Canadian rock bands. While in Cuba, RLS will be working closely with benefit/charity organizations, hosting a series of workshops for the arts community, visiting music schools and more.
The whole experience will be filmed for an upcoming documentary.
So check back with us often … for the full Tour schedule, updates, new media, an ongoing tour blog, and our strange thoughts on the matter.
Peace/Ciao
RLS